Posted by Celebrate Science Indiana
On December 1, 2017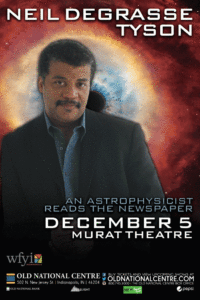 Join renowned astrophysicist and Hayden Planetarium director Dr. Neil deGrasse Tyson at the Murat Theatre at Old National Center,  502 North New Jersey Street, Indianapolis for "An Astrophysicist Reads the Newspaper" on Tuesday, December 5 at 7:30 PM.
The world looks different when you are scientifically literate.  Explore with Dr. Tyson all that is funny, illuminating, and alarming about what appears in the world's current events.
Through Thursday, October 26th at 10 pm, you can get advance access to tickets and the best seats in the house BEFORE the general public!  To take advantage of this limited time offer, link here to LiveNation and enter presale code SCIENCE!